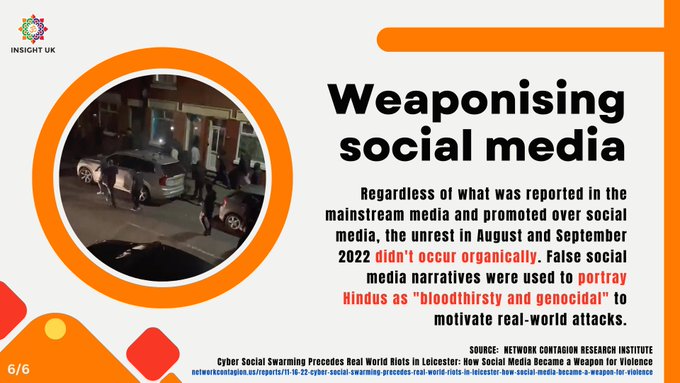 } ?>
A Delhi based think tank -Centre for Integrated and Holistic Studies (CIHS) – has come out with a report explaining how Social Media has been weaponized to target Hindus in UK. Here are excerpts from the report:
Artificial Intelligence models quantify the weaponisation of social media sites to spread hate
and false narratives against Hindus that incited anti-Hindu violence in Leicester.
Leicester, the heartland of the Hindu community in the United Kingdom, is home to
the second-largest Hindu populace in Europe. Widely known for its vibrant Hindu culture
and stunningly beautiful Hindu festivities throughout the world. Since late August 2022
until September 2022, the city's minority British Hindu community had been the target of
deliberate, organised, and systematic acts of violence including vandalisation of a local
Hindu temple by South-Asian origin Muslims in the UK.
For nearly a month, Hindus were overwhelming victims of violent crimes like attempted
stabbings, looting, organising to commit crimes, vandalism, and hate speech. In addition,
despite assurances of safety from the local authorities and Leicestershire police, British
Hindu homes and business establishments in Leicester were targeted by organised, violent
Islamist mobs. Extreme Islamist groups in the UK waged a systematic terror campaign
against British Hindus while they were in Leicester, subjecting them to extreme threats,
assaults, and trauma.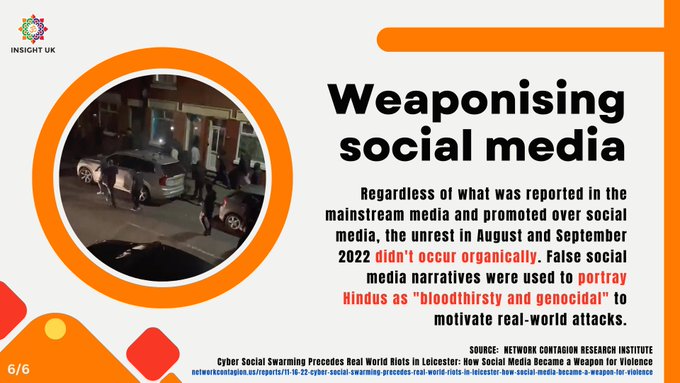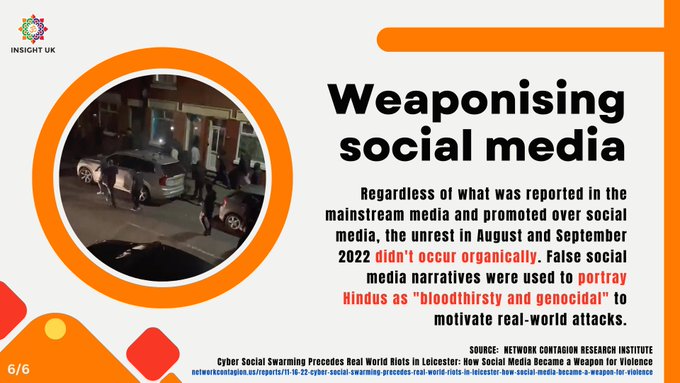 A large-scale mobilisation of violent extremist Islamists and criminals to Leicester with the
intention of damaging the city's Hindu population was made possible by online hate
campaigns that were planned both within and outside of the UK to incite hatred and spread misinformation against Hindus.
The media primarily characterised the anti-Hindu violence in Leicester as being sparked by
racial and aggressive anti-Pakistan slogans; nevertheless, the planned, systematic, and
organised attack on Hindus was never brought up or acknowledged. Statements condemning
the horrific anti-Hindu violence were casually reported by the media.
In fact, mainstream UK media outlets like the Guardian, the BBC etc. made sure that fake
news disseminators and supporters of Islamist extremist groups like Majid Freeman, who
spread false information to incite violence against Hindus both online and offline, or roving
reporters like Sunny Hundal, who stoked Hindu hate and sparked violence in the area by
tweeting inciting messages, were given a platform to further spread Hinduphobia and
extremist views.
Most of these observations were confirmed in a research released on November 17, 2022 by
the National Contagion Research Institute (NCRI), a cyber threat intelligence organisation.
In the report entitled "In a Cyber Social Swarming Precedes Real World Riots in Leicester:
How Social Media Became a Weapon for Violence" . NCRI collected data about incidents 1
in Leicester from Instagram, YouTube, TikTok, and Twitter between August 27, 2022, and
September 19, 2022. The report's findings are based on a variety of technological tools,
machine learning, open source intelligence, natural language processing (NLP) models,
network analysis, and linguistic models like ConfliBERT which are used to map political
conflict and violence.
The findings of the reports show that bots used cyberswarming to encourage violence 2
against Hindus online, which eventually spread to the real world. Real-world violence
against Hindus, hate speech and slurs, vandalism of Hindu temples, and intimidation were
manifestations in the socio-physical domain. The first social media incident that has been attributed to inciting violence in Leicester was a video that went viral and was shared by the unknown account @tragicbud. In the video,
cricket fans (who were not necessarily Hindu) can be heard chanting phrases like "Death to Pakistan."
The user @tragicbud equated the sloganeering in the video with Hindutva, thereby giving India's
victory in the cricket match an ethnoreligious connotation. In order to create a network analysis, this tweet was
examined by NCRI.
Following this, Pakistan inclined twitter handles in used cyberswarming and began notifying their followers and urging a call to action in both the cyber and real worlds. In the days following the altercation, the narratives being spread by these Pakistan-leaning twitter handles and entities grew more intense, making the terms "Hindu," "Hindutva," and "Abuse" recurrent themes. Figure 3 illustrates network analysis and statistical association
between these themes as reported by NCRI. Additionally, it demonstrates the "Hindu" term's cosine similarity to 10 additional terms that were adopted by the South-Asian origin Muslims to support Islamophobic narratives.
The on-ground violence increased along with the amount of Hinduphobic content on Twitter (mainly) and other social media. The use of racial slurs like "Cow Piss" and other hinduphobic epithets increased abruptly.
The full report is available here…
CIHS-Explainer-WeaponisationOfSM CIHS-Explainer-WeaponisationOfSM